RideMovi returns to Palazzo Vecchio in Florence to be awarded the Smart Your City "Gold Fiorino of Innovation" prize for leveraging cutting edge technology to provide its smart bike share service.
'Smart Your City': the innovation Award in Services
After launching in the Palazzo Vecchio on July 2017, RideMovi is, back after a few months, in the Florentine foreground, this time for special recognition. The Innovation Award in Services was established and organized by the City of Florence, Confartigianato Imprese Firenze and Confindustria Firenze to thank and value those who have created impactful and innovative services for the city.
Mobile Technologies companies
In addition to RideMovi, other mobile technology companies received awards, including the Kimap Navigator, a digital map and ecosystem to support disabled mobility that reports obstacles for people with disabilities, check in h24 Keesy service and the Socota taxi on demand.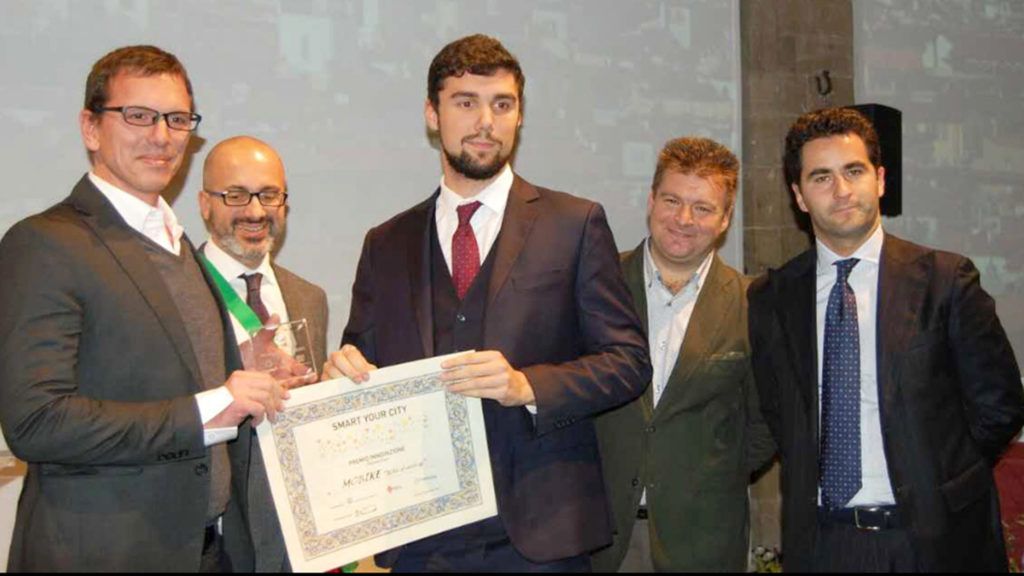 On the left, Alessandro Felici receiving the 'Smart Your City' Prize awarded to RideMovi
The winners were announced at the 'Smart Your City' event in the presence of Giovanni Bettarini–Councilor for Urban Planning and Smart City Operations for the Municipality of Florence, Alessandro Vittorio Sorani–President of the Confartigianato, Lapo Baroncelli–Vice President of Confindustria Firenze, Carlo Ratti–professor at the Massachusetts Institute of Technology and Alessandro Felici–CEO of RideMovi.
A wide variety of ideas, models, technological applications and innovative design techniques were nominated. Participants included companies in almost every sector (industry, crafts, trade and services), professionals, foundations, public administrations, research centers and universities, both Italian and foreign.