On the occasion of Mobility Week 2022, Ridemovi is proud to announce a partnership with Datafolio, the pay-as-you-go mobility insurtech.
Datafolio app allows you to activate a personal accident insurance policy with no fixed costs, but only on a pay-as-you-go basis! All you have to do is activate the policy and take your smartphone with you.
All Ridemovi users will benefit from a free month of personal injuries cover, with no obligation to make subsequent purchases or renewals. The free month is available on all micro-mobility vehicles (bicycles, ebikes, scooters, segways, one-wheelers, etc.) as well as on motorised vehicles (cars, motorbikes, mopeds), regardless of vehicle ownership.
That's right! Not only does Ridemovi offer you accident protection on its fleet, but also on any other vehicle, whether yours, rented or borrowed. If the vehicle includes passengers, you will also be covered when travelling in someone else's vehicle (including taxis).
Accident cover is also valid for your trips all across Europe!
DATAFOLIO – YOUR POCKET INSURANCE
There is no need to keep the app open or the mobile phone screen on, just GPS. The app, in fact, thanks to artificial intelligence, is able to automatically recognise the movements and type of vehicle, and thus ensure the user (either as driver or passenger) for injuries sustained in a road accident, without fixed costs but always at a per-kilometer rate. No trip? No costs!
Furthermore, if you adopt a prudent driving style (safe roads, speed within the limits, etc.), the price per km is discounted by up to 50%!
---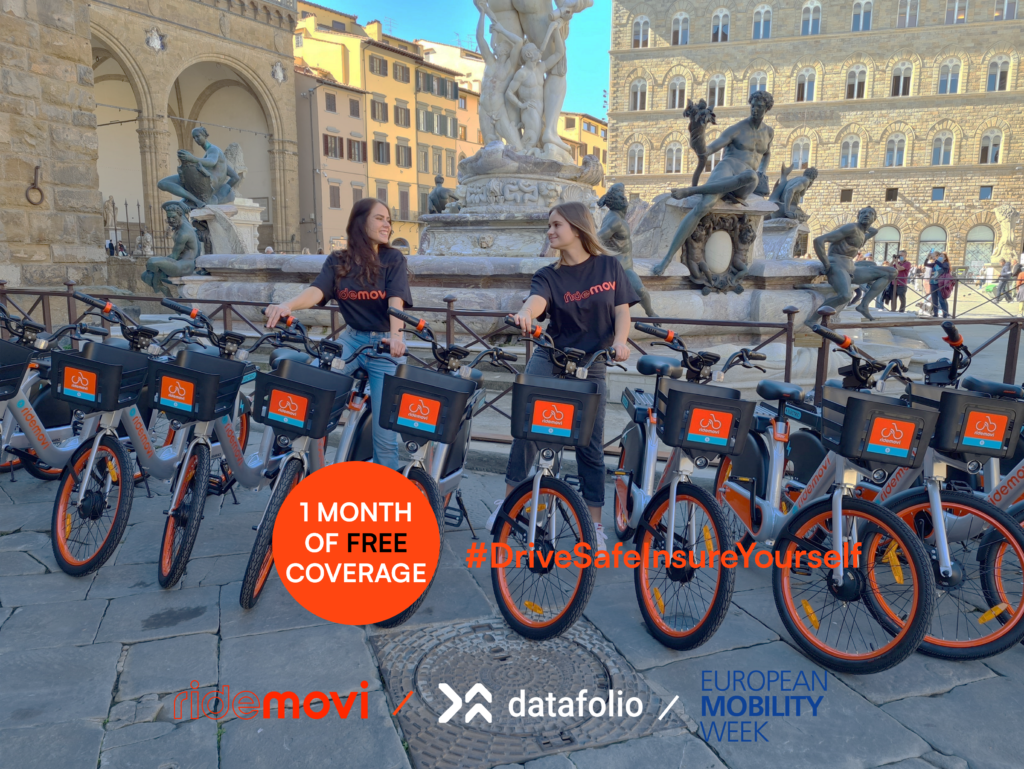 ---
HOW TO ACTIVATE THE PROMOTION
Directly from the banner in the Ridemovi app, or by clicking HERE, you can download the Datafolio app. There is no need to enter any code: after registering, you can proceed to choose your preferred mobility package ("All inclusive" or per vehicle category) and the formula (monthly or rechargeable).
Note: To function, the app requires 'Always' consent for geolocation. If you refuse or select 'Only this time, you will have to manually change the option in your phone's Settings.
About Datafolio
Datafolio is an insurtech founded in 2020 whose mission is to enable everyone to travel safely by simplifying mobility risk management. Informed of the risks involved, drivers of cars, motorbikes, scooters and bicycles can take out 1 km insurance, with or without a subscription, automatically. Thanks to Data Science, Datafolio democratizes access to mobile insurance with a user-friendly service, available anywhere and for everyone, in its application or via integration into mobility platforms.